Grow your STEM program with
brite
Help kids in your community to become awesome game and web developers!
Meet Our Custom Branded LMS Platform
Brite is a comprehensive White Label platform designed to empower communities, academies and educators to teach computer science. We provide an award winning curriculum, tools and resources, and overall turn-key solution to run and grow a STEM academy.
About Product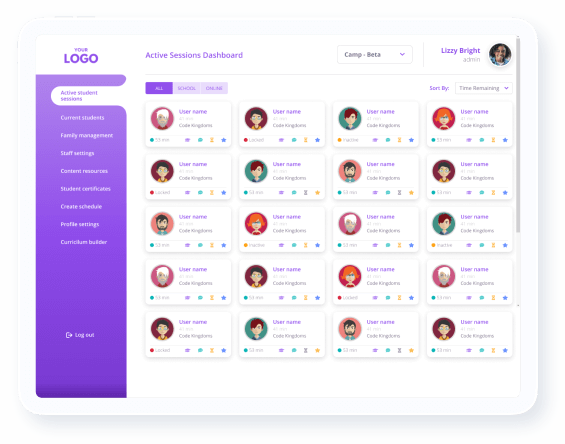 Content Management
Custom structured curriculum and content delivery
Student Management
Easily manage your school roster
Family Management
Keep all the family members in one place
Student Progress Management
Create and maintain student accountability
Check In/Out
Easy digital check-in/out with personal passcodes.
Scheduling and Billing (Coming soon)
Build your own schedule and set up monthly autopay for your customers
What Our Customers Say:
Brite is an amazing school management and content delivery platform. It has allowed us to eliminate numerous systems, expensive software licenses, and spreadsheets, and has directly lowered our operational costs. Most importantly it has made our business easy to run, with a lot less headaches.
We are using Brite for our Chess PLUS Coding summer camps. In spite of chess being our core specialty, not coding, this system allowed us to simply focus on hiring the right teachers to lead the coding portion and easily deliver a great experience for our students.
We always wanted to put more emphasis on video game development at our academy, but couldn't figure out where to start. When we tried Brite curriculum it was "love at first sight".
I was surprised how easy Brite made it for me to start my own after-school coding academy. I always wanted to teach kids but the idea of having to use different tools to manage it would always overwhelm me. Now, all I have to focus on is my classroom.
Brite has helped us organize our coding courses and made it easier to assign students to classes and track their progress. Our franchisees also love the custom LMS with artwork and colors that match our brand.  Brite really made it feel like it was our own product, rather than some off the shelf product.
We have been using Brite in our Drop-In Coding Academy and love it! It is a very simple system to use and is very affordable. The content provided through the platform is great and our students absolutely in love with it. Brite makes it easy to set up new students and easily keep track of student progress. I highly recommend for after-school coding programs.